TICKETS
You can make a reservation for:
"Tokaidochu Hizakurige" and "Honcho Nijyuushiko" (『東海道中膝栗毛』『本朝廿四孝』)
Story
Tokaidochu Hizakurige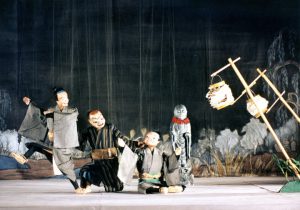 After a series of misfortunes in Edo, Yajirobe and Kitahachi set out for a journey to Kyoto. On the way to Akasaka town, the 36th post-town on the road from Edo to Kyoto, they saw a boy passing with a bottle of sake in his hand. Yajirobe mistook him for a monocular monster and beat him to punish the "monster." Then, the boy's father came up and lashed up at him angrily. He choked Yajirobe into unconsciousness. Moreover, he robbed Yajirobe of his clothes and instead dressed him in kyokatabira, a kind of Japanese burial clothes. When Yajirobe woke up from unconsciousness, he found himself dressed in burial clothes. Misunderstanding that he was dead, he deeply lamented.
Honcho Nijyuushiko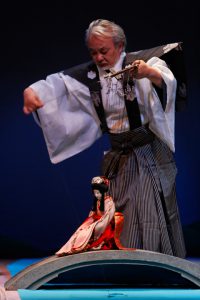 Based on a historic rivalry between Uesugi and Takeda in Sengoku era. Yaegaki-hime, the princess of Uesugi, was betrothed to Katsuyori, the heir to Takeda, under Shogun's permission. After the assassination of Shogun, however, they were falsely accused of the assasination, on a charge of which Katsuyori was forced to commit hara-kiri. Yaegaki-hime mourned for his death, but in reality, he was still alive. He escaped from it and disguised himself as a gardener for Uesugi. She noticed that the gardener was Katsuyori, who sneaked into Uesugi's residence in order to get back his family treasure. At the same time, Kenshin, her father, also noticed that the gardener was Katsuyori and sent his retainers in an attempt to kill him. Eager to tell him that he was in danger of assassination, she prayed to a mystic kabuto, war helmet, enshrined in Suwa shrine. Finally, a fox spirit haunted her to make her rush to Katsuyori's place through the frozen Suwa lake.
Information
Date and Time: 6-11 Feb. 2020
Thu. 6 Feb. 19:30-.
Fri. 7 Feb. 19:30-.
Sat. 8 Feb. 14:00-.
Sun. 9 Feb. 14:00-.
Mon. 10 Feb. 14:00-, 19:30-.
Tue. 11 Feb. 14:00-.
Location
THEATRE "SAMSA"
Address:
Laputa bldg. B1F, Asagaya-kita 2-12-21, Suginami, Tokyo. Two minutes walk from Asagaya station.
Map
Prices
Adults: 4,500 JPY.
Youth (under 30 years old): 2,000 JPY.
Ticket Form
Please fill out the form below for booking information.
Your reservation is made as soon as you receive a confirmation from us. Payment is accepted by bank transfer or in cash at the theater. We accept NO option of online or credit card payment, sorry.
Account number for bank transfer is to be informed later.
* required.